Scala Succinctly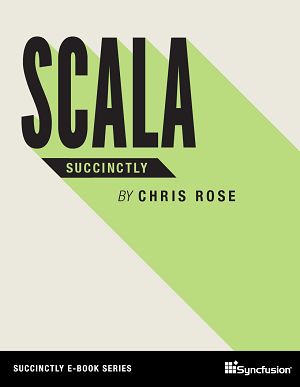 Syncfusion ha publicado un nuevo libro electrónico gratuito escrito en inglés por Chris Rose sobre Scala.
Scala es un lenguaje de programación multi-paradigma diseñado para expresar patrones de programación comunes de forma sencilla.
Su implementación se ejecuta sobre una máquina virtual de Java y es compatible con las aplicaciones Java existentes.
Podrás descargar el libro tanto en formato PDF como en formato Amazon Kindle e Ipad en este enlace.
El índice de contenidos del ebook de 110 páginas es:
Introduction
Variables and Values
Expressions and Functions
Control Structures
Arrays and Lists
Other Collection Types
Classes and Objects
Pattern Matching
Closures
Conclusion
Podrás acceder directamente a los libros electrónicos en los siguientes enlaces:
Libro eléctronido en formato PDF.
Libro electrónico para Kindle e Ipad.
Para más información sobre Scala, te recomiendo visitar este enlace.
¡Happy Coding!