Implementing a Custom Language Succinctly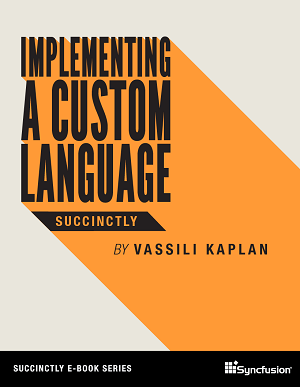 Syncfusion ha publicado un nuevo libro electrónico gratuito escrito en inglés por Vassili Kaplan sobre Custom Languages.
Podrás descargar el libro tanto en formato PDF como en formato Amazon Kindle e Ipad en este enlace.
El índice de contenidos del ebook de 121 páginas es:
Introduction
The Split-and-Merge Algorithm
Basic Control Flow Statements
Functions, Functions, Functions
Exceptions and Custom Functions
Operators, Arrays, and Dictionaries
Localization
Testing and Advanced Topics
Podrás acceder directamente a los libros electrónicos en los siguientes enlaces:
Libro eléctronido en formato PDF.
Libro electrónico para Kindle e Ipad.
¡Happy Coding!