Xamarin.Forms Succinctly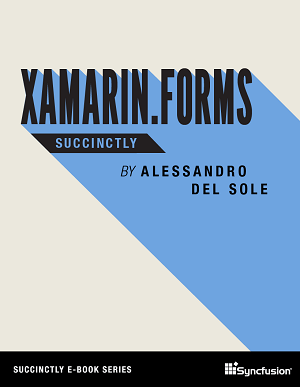 Syncfusion ha publicado un nuevo libro electrónico gratuito y escrito en inglés por Alessandro Del Sole sobre Xamarin.Forms.
Podrás descargar el libro tanto en formato PDF como en formato Amazon Kindle e Ipad en este enlace.
El índice de contenidos del ebook de 127 páginas es:
Introduction
Getting Started with Xamarin.Forms
Sharing Code Among Platforms
Building the User Interface with XAML
Organizing the UI with Layouts
Xamarin.Forms Common Controls
Pages and Navigation
Resources and Data Binding
Accessing Platform-Specific APIs
Managing the App Lifecycle
Appendix: Useful Resources
Podrás acceder directamente a los libros electrónicos en los siguientes enlaces:
¡Happy Coding!